Robert Morris, M.D.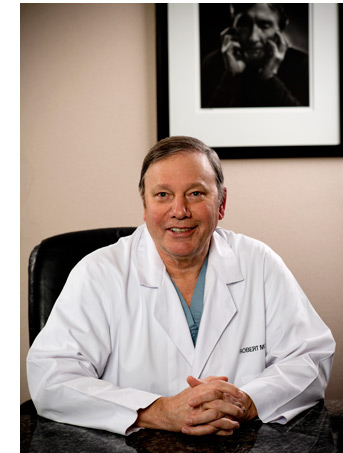 Dr. Robert Morris, a Board Certified Ophthalmologist, is a founding physician of Retina Specialists of Alabama, Birmingham, Alabama, USA and the President of the Helen Keller Foundation for Research and Education.
He has been a frequent innovator in vitreoretinal surgery since 1980, while also managing a large clinical practice. He regularly contributes to national and international journals and conferences of vitreoretinal surgeons and other ophthalmologists. His advanced training and surgical skills are particularly recognized in the treatment of severe eye injuries and surgeries of the macular (the center of vision). His research, in collaboration with Dr. Ferenc Kuhn and Dr. C. Douglas Witherspoon, has focused on vitrectomy advances, innovations in surgery on the macula and eye injury.
Morris' contributions have included the introduction of Gas Forced Liquid Infusion (GFLI, 1990) now used during most vitrectomy surgery in the United States; intentional removal of the Macular Internal Limiting Membrane (ILM, 1990); first ILM Forceps (1997); Designer ILM Maculorhexis (1997).
In 2001 and 2003 he was awarded Best of American Show by the American Academy of Ophthalmology (AAO) for educational videos of techniques for macular surgery. He is a recipient of the Senior Honor Award from both the AAO and the American Society of Retina Specialists for extensive contributions to scientific activities. Among his many exceptional contributions Dr. Morris pioneered techniques of temporary keratoprosthesis (TKP) vitrectomy to completely reconstruct injured or infected eyes. He has been consulted to treat patients who suffer severe injury to both eyes as victims of terrorist bombing incidents.
Dr. Morris served as Chief of Staff of Callahan Eye Hospital from 2003 – 2012 and is regularly listed in Best Doctors of America.
He currently serves as Chairman of the International Society of Ocular Trauma and as an Associate Clinical Professor of Ophthalmology at the University of Alabama at Birmingham where he actively participates in the training of ophthalmology residents and has participated in the training of many fine ophthalmologists currently practicing within the state of Alabama and others. The Vitreoretinal Surgery Fellowship Program that Dr. Morris founded trains young ophthalmologists in the advanced practice of vitreoretinal surgery upon the completion of their residency program. These high achieving vitreoretinal surgeons now practice throughout the US, in the US military and as far away as Christchurch, New Zealand. In 2010 the Retina Specialists Fellowship Program combined with the UAB Callahan Foundation fellowship program to offer training surgeons an even richer training experience.
Original founder of the Birmingham practice in 1981, Dr. Morris went on to establish Retinal Practices in Montgomery, Al, Huntsville, Al, Tuscaloosa, AL and now Jasper and the Oxford Anniston area.
Dr. Morris has achieved an impressive legacy, saving the vision of countless patients while still making his mark in clinical research and innovation and he's not done yet!
---